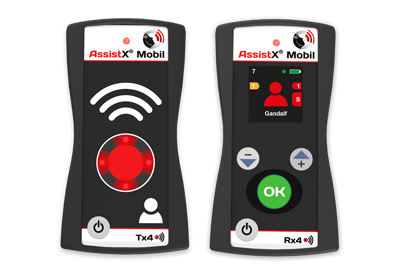 Our AssistX Mobil
AssistX Mobil is a safe, flexible, wireless call system for intensive care at home, in residential groups, homes and clinics. A wide variety of sensors and switches, but also communication aids and medical devices can be used to trigger a call. Multiple transmitters can be combined with one or more receivers.
Security
the call that is received safely
Our Call System is particularly safe: the transmitters and receivers use a special frequency and meet all requirements of the German standard DIN VDE 0834. Every call is confirmed and cannot be lost. Continuous monitoring of the battery status and range guarantee perfect functioning. Unplugging a cable or other changes also trigger an alarm. All activities are logged in the receiver.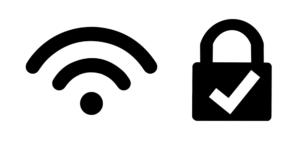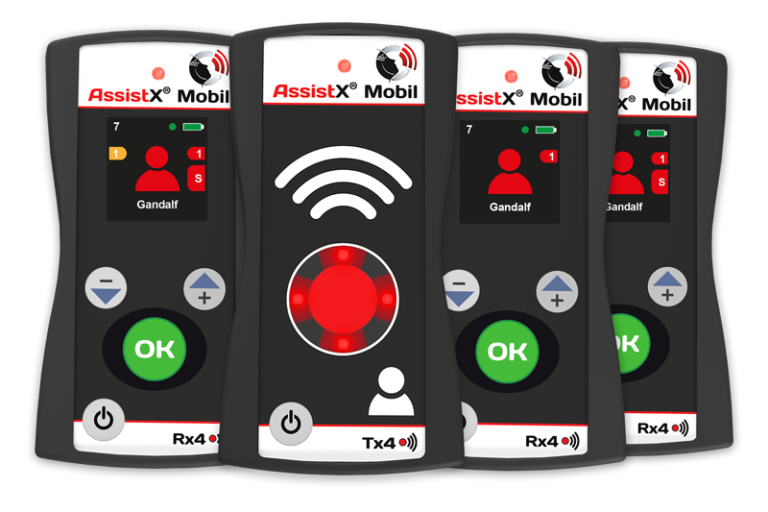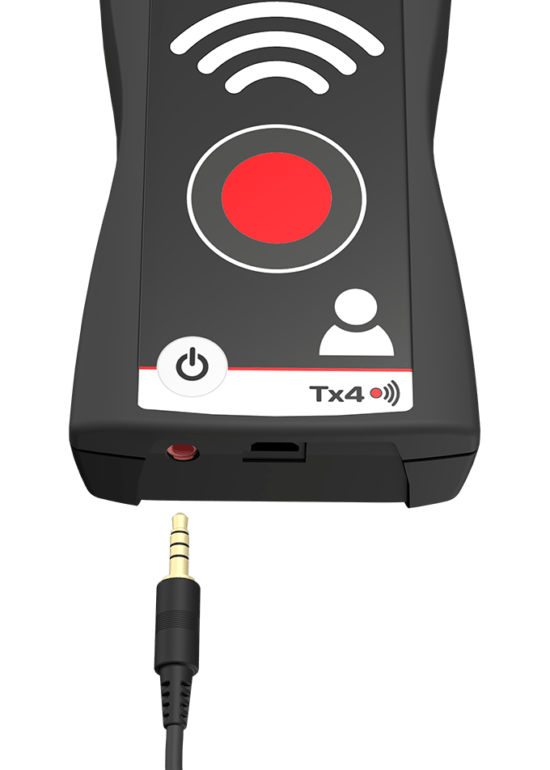 Assistive Call Activation
Any switches or sensors can be connected via the AssistX port. External devices with a call output, e.g. ventilators can be used as triggers. Customized for each user, as needed.
Multi User
One for all, all for ...
For use in residential groups, in small nursing homes and in clinical environments, several transmitters can be combined with one or multiple receivers. The receivers recognize when another has already confirmed the call. A name can be assigned to each transmitter so that you can immediately see who needs help. Optional repeaters increase the range in larger buildings.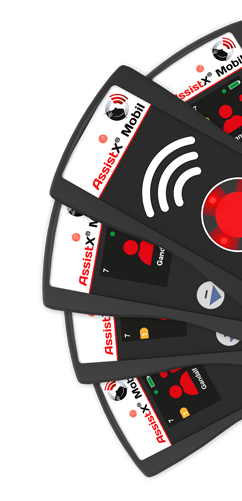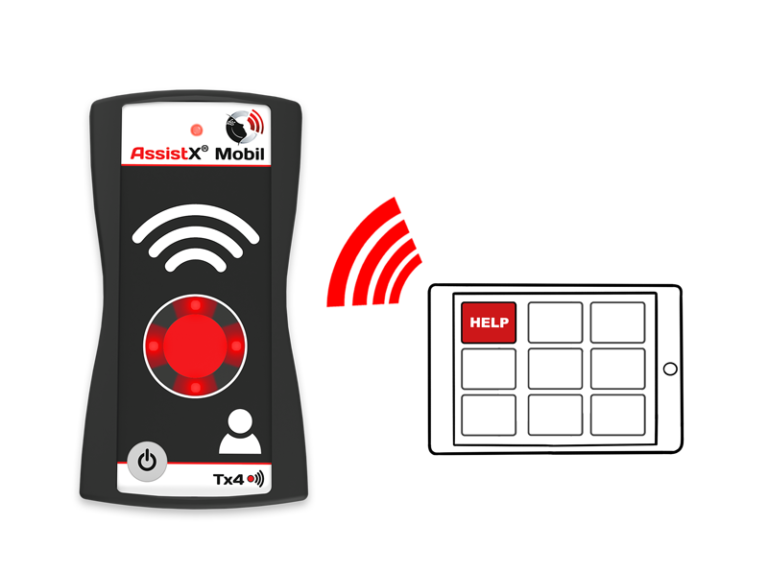 AAC
Extend with a secure call
A communication device enables conversation with its voice output and in writing. With AssistX Mobil it can be expanded with a secure call function. The AAC device only needs to have an infrared transmitter, which is usually installed. A safe call can be activated with eye control, head or mouth movements.
Accessories
For every day use
In everyday life it can get very busy. Charging the batteries, mounting and connecting to other devices must be very easy. Proven accessories are the key to trouble-free operation.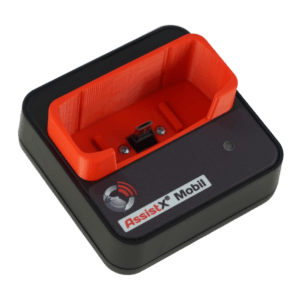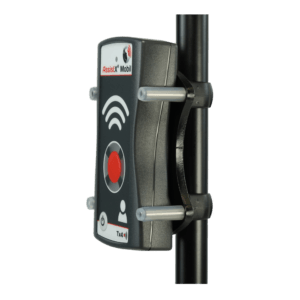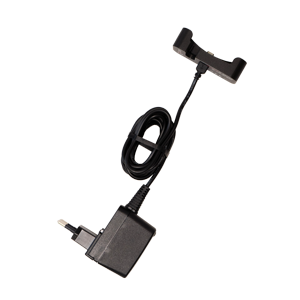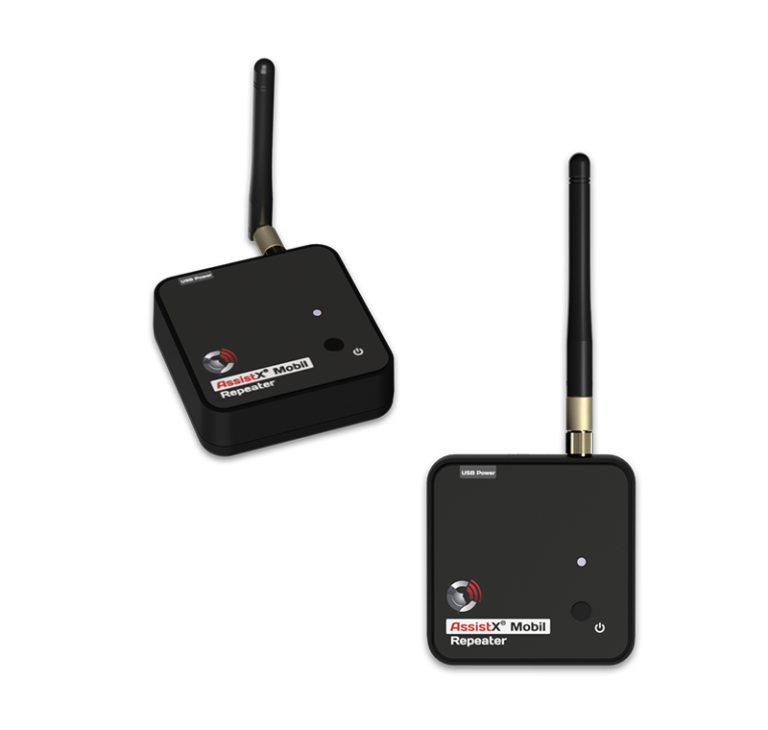 AssistX Mobil Repeater
EXTENDED RANGE
In large facilities and buildings, it is often important to significantly increase the range of the AssistX Mobil call system. It's easy with the AssistX Mobil Repeater! Simply connect, switch on, ready. Up to 8 repeaters can be used in one system, they organize themselves, no settings are necessary. A buffer battery ensures safe function even in the event of a power failure.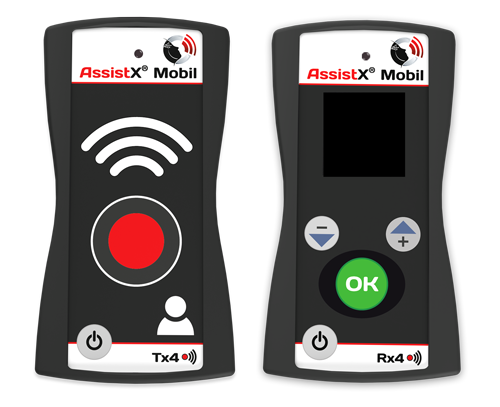 More Information
and technical details
Secure wireless call system according to DIN VDE 0834
Transmitter is equipped with an AssistX port and an IR sensor
Battery and function monitoring of the transmitter
Range monitoring
Acknowledgement by soothing lamp function
Adjustable volume
Optical and acoustic signaling
Vibration signaling
Social Alarm Frequency
Group: Several transmitters can be *interconnected to several receivers
An individual name can be assigned to each transmitter.
Large color display in the receiver
Battery life: Depending on the inserted sensor, up to several days (transmitter); 9 - 20 h (receiver)
Receiver configurable by display menu or PC
Dimensions: approx. 65 x 119 x 26.5 mm
Reseller & Distributors
Are you looking for purchasing this product and are you looking for the right specialist reseller?
© 2021 CSS Microsystems GmbH