ClickMan - The All-Rounder
ClickMan is an adaptive, universal sensor controller. Buttons and sensors connected to the input (AssistX Port) can trigger a wide range of configurable actions at the outputs.
ClickMan serves in particular to implement individual user requirements. For example, short-time actuation can be ignored or repeated accidental actuation can be avoided to ensure safe functioning. It is also possible to control two devices with one sensor/button.
Function
The patented AssistX Port (input) automatically recognizes which types of control elements are connected and can also supply them with power (e.g. AssistX AS one and AssistX ProX one). ClickMan serves a AssistX Port sensor input, and two potential-free outputs. One of the outputs can be used as a normal open contact.
A feedback can be taken optical or acoustical for either the input or the output.
With the integrated lithium polymer battery, the device is also suitable for mobile applications.
The firmware can be conveniently updated with the ClickMan confi-gurator. Furthermore, the settings of the ClickMan can be protected by a pin code.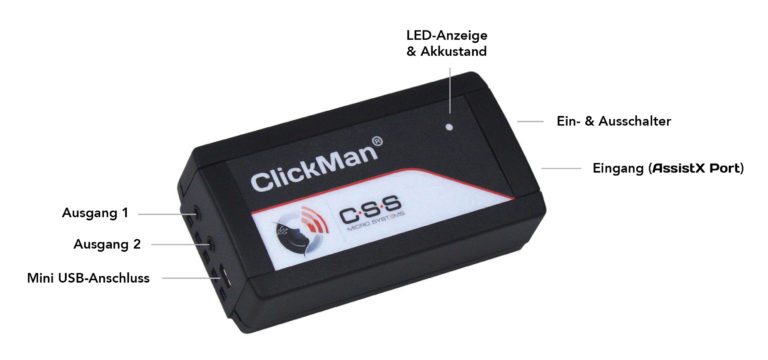 Reseller & Distributors
For further advice on our ClickMan or ClickMan ProX2, you can find your suitable specialist dealer on our partner & specialist reseller page!
© 2023 CSS Microsystems GmbH